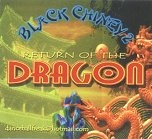 POISON DART - BLACK CHINEY 2: (FLA) The Bad Bwoys of Poison Dart, Florida's premier sound system has come out with their strictly mixed CD for the Y2K!! Trust mi this CD is wicked! Dubbed "Return of the Dragon", its a pletora of remixes and refixes where booming reggae tracks are laid to hardcore Hip Hop beats!! Of course the lyrics are strictly year 2000 style with artists like Bounty Killa & Baby Cham ("Another Level"), Capleton ("Slew Dem"/"Want More Prophet"), Spragga & Foxy Brown ("Yu Too Stush"), Beenie Man ("Badman"), Lexxus ("Cook"/"Cellie"), Ward 21 ("Pain"), Elephant Man ("Mr. Watchie Pums"), Sizzler ("Bad Man DEm") and much more!!
1. CHINEY INTRO
2. SLEW DEM OLD SCHL RFX - CAPLETON
3. WWW.2000 - ELEPHANT MAN
4. HOT BOYZ - N KUTCHIE/B DYNAMITE
5. SUPPOSE TO KNOW - SPRAGGA
6. COMEBACK - GHOST
7. MILLENIUM JUMP - OMAR GOSH
8. BADMAN ZA - BEENIE MAN
9. YU TOO STUSH - F. BROWN/SPRAGGA
10.BITTER MI BLOOD - BEENIE MAN
11.COOK - LEXXUS
12. NUH BAD LIKE WE - GENERAL DEGREE
13.TOO MUCH WAR - SCARE DEM
14.WANT MI MONEY - MR. VEGAS
15. CALL IN THE MONEY - ROUNDHEAD
16. STAY FAR FROM TROUBLE - CAPLETON
17. MORE PROPHET - CAPLETON
18.RING OFF MICELLY - LEXXUS
19.DROP IT LIKE ITS HOT - LEXXUS
20.WHAT A GAL - MEGA BANTON
21.MUS HOLD YU - HAWKEYE
22.SENSIMELIA -TANTO METRO/ DEVONTE
23.THE DOCTOR - BEENIE MAN
24.PAIN - WARD 21
25.THE STRUGGLE RFX - BABY CHAM
26.NONE OF DEM PUSSY RFX -BEENIE MAN
27.MR. WATCHIE PUMS RFX - ELEPHANT
28.READY WHEN YU READ RFX-CAPLETON
29.REALLY STRANGE - CAPLETON
30.WATCH YU FRIENDS RFX - HARRY T.
31.I'M FROM A PLACE RFX - SIZZLA
32.SEEK KNOWLEDGE RFX - CAPLETON
33.BAD MAN DEM - SIZZLA
34.STAND UP IN THE FIRE - CAPLETON
35.BUN DUNG DREADIE - CAPLETON
36.ANYTIME NOW - SIZZLA
37.REGGAE STARS - BOUNTY KILLA
38.INDECENT - BOUNTY KILLA
39.POLITICIAN - BURRO BANTON
40.WHAT A STRESS - LEXXUS
41.MR. HOOK - ELEPHANT MAN
42. INNA DEM BLOOD - ELEPHANT MAN
43.HEADACHE - ELEPHANT MAN & DELLY RANKS
44.CRAZY - BEENIE MAN
45.BADDA DAN THE REST - BEENIE MAN
46.HEIGHTS OF GREAT MAN - BEENIE MAN
47.SLEW THEM - CAPLETON
48.BLOOD STAIN - WARD 21
49.YU DONT WANNA START - WARD 21/ELEPHANT
50.CHICKEN HEAD - SEAN PAUL
51.WATCHING US - WARD 21
52.SEE THEM RUNNING - WARD 21
53.YU NU CARE - CHICO
54.WHAT YU UP2 - FRISCO KID
55.DIAL TONE - LADY SAW
56.GIRLS FILE - SHAGGY
57.HATERS & FOOLS - BEENIE MAN
58.ANOTHER LEVEL - BOUNTY & BABY CHAM
59.OH PIRATES RFX